Course Info
DATE:
2020
COURSE:
Professional Workshop Workshop
VISITING PROFESSORS:
Sara Colombo
TEACHING ASSISTANT:
Laura Varisco
Encouraging Sustainable Lifestyle Through Banking
Considering sustainable lifestyle for both individuals and for the society, the student designed interactive solutions to help GenZ and Millennials earn, manage, give, or save money to achieve a goal.
The participants designed a physical/digital interactive solution for GenZ and Millennials that:
– helps them achieve the identified goal(s) related to sustainable lifestyles
– focuses on one or more specific functions
– leverages one or more emerging technologies
The students designed the main features of the new product/service. They described the final solution through a presentation and an experiential mockup (physical, digital, video, etc.). The solution had to be designed not only by envisioning its functionalities (hard features), but especially paying attention to the soft aspects (e.g. voice, language, graphical or physical appearance, etc.), which have to be compatible with the goals, functions, and new roles the bank takes on in the new context.
Students:
Manvi Aggarwal
Farnaz Shahriari
Yuan Siyi
Vikram Singh Virk
Zheng Chenhao
A platform through which you can donate any amount of money to make your world a better place and probably, your first million-dollar idea hasn't gotten a breakthrough yet. So who pays? You live a sustainable life and your good choices will pay for the making of a sustainable world. Where is the money coming from? For every mile you move, you can earn money for your charity from our corporate sponsorship pool. By shopping online or in store from our sustainable partners you will get 10% off. For every 10 € spent you earn 0.50 € as balance. You can volunteer to do some work. A fraction of what you receive can go into donation and rest in your bank account. There are endless possibilities.
Students:
Oriana Arnone
Irina Nikulina
Jingru Zhang
Yiwei Zhou
Yiwei Liao
Nianding Ye
A service that help Millennials to manage money especially to keep tracking daily small expenses to achieve independence through new learning systems and relational banking by leveraging the potentials offered by virtual assistants and wearables in order to give the service provider the role of coach, educator, and supporter,
Students:
Serena Alampi
Erica Colombo
Gaia Coradeschi
Beatrice Mascheroni
Andrea Picardi
A platform that allows the users to grow their passions and earn money while performing social activities related to their passions.
Students:
Elettra Bertazzoni
Alessandro Ceriani
Noemi Cerrato
Pablo Fraustro Rodrigo
Chiara Sorrentino
Andrea Torrone
A platform that allow to escape from personal routine by enjoying tailor-made activities in order to achieve personal balance.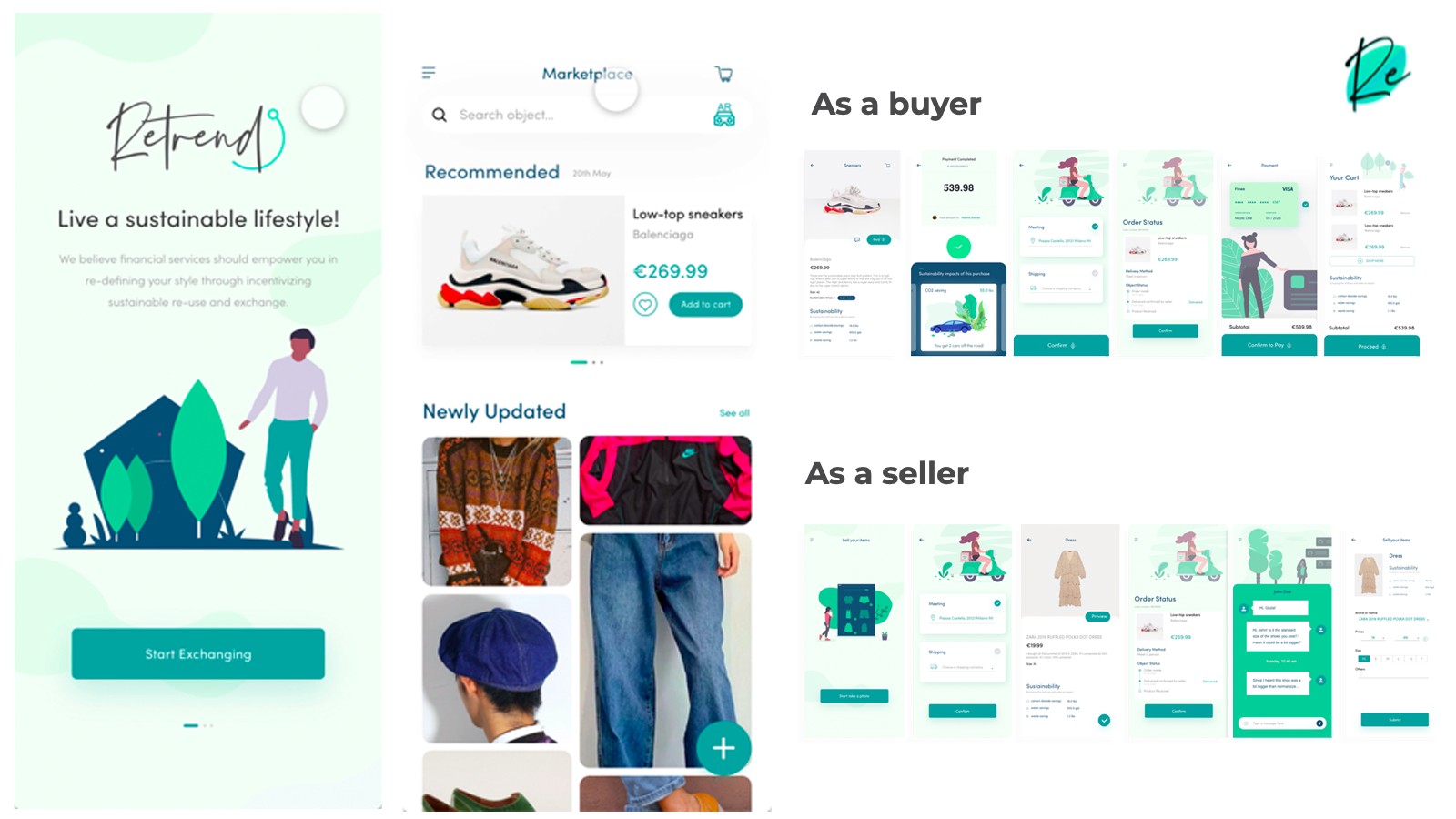 Students:
Li Rui
Shen Ruoqing
Zhao Junpens
Zhu Tao
Nicolo Azzolin
A platform through which empower Gen Z in re-defining their style through incentivizing sustainable re-use and exchange.